Thank you to the Chinet® brand for sponsoring this post.
Summer in Florida begins around April and lasts through October, leaving us a fairly long BBQ season. During that time we love sitting outside with the kids and grilling up food for friends and family. All four of our birthdays fall during the summer which, of course, includes holidays like Memorial Day and the Fourth of July. This makes for perfect opportunities to host beautiful backyard BBQs. Today I'm going to share some of my favorite tips for hosting a summer BBQ without breaking the bank (or spending too much time cleaning up!)!
Throwing backyard BBQs is one of the best parts of summer, but if you start spending too much to host one it loses the appeal. The whole purpose is to enjoy yourself with friends and family and not worry about having to cleanup excessively. That, my friends, leads me to my first tip for hosting a budget friendly BBQ!
Tip 1: Disposable Everything!
Chinet® Classic White™ plates and napkins, and Chinet® Cut Crystal® cups, and cutlery are must-haves to keep on hand, especially during the summer season. I love the functionality and durability of Chinet Classic White plates. The clean white appearance creates a beautiful look for your tablescape. No matter what you decide to serve; pasta salads, steak, corn on the cob, etc., these plates were designed to hold up and not bend, fold or leak.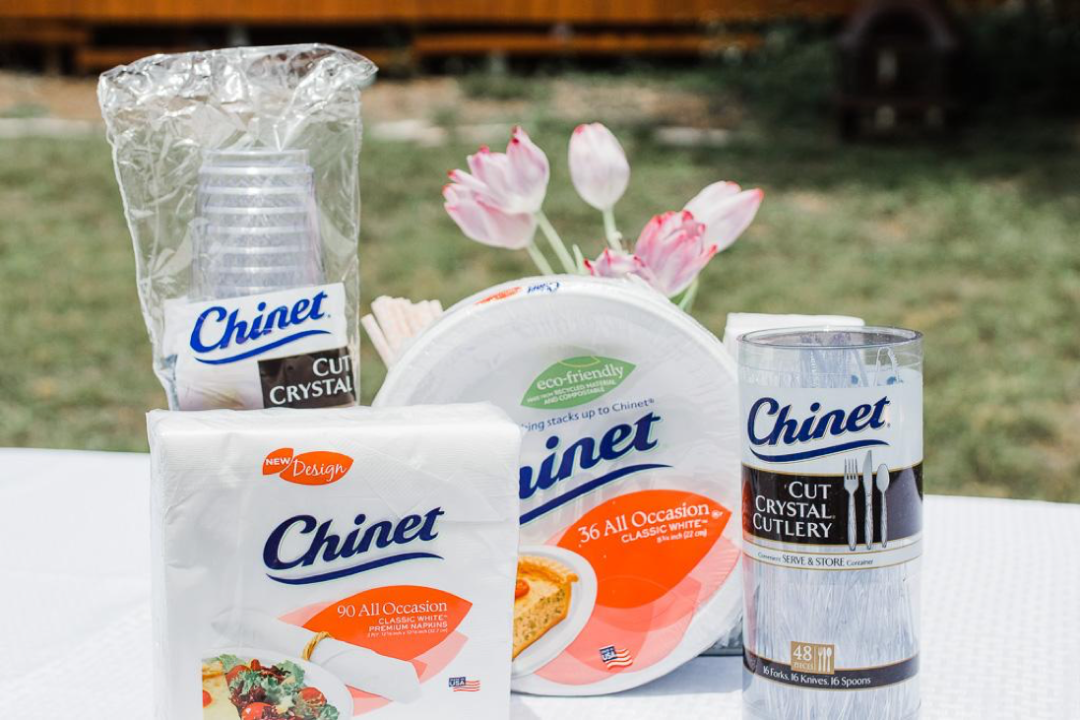 Click the Image Above to Shop!
Chinet® Classic White™ products make cleanup easy, just throw away when done! Serve all your food on Chinet brand plates and say goodbye to washing dishes at the sink while your guests are out enjoying the party! Another reason why I love this brand so much is that the plates are microwavable! It never fails, guests hang out so long they get hungry again later! Pop leftover food in the microwave to enjoy later on.
Tip 2: Recycle home decor
Take a look around your home for items you can use to dress up your guest table or food display! You can also dress up the place settings with leftover fresh herbs like thyme and tie in a bow with bakers twine or jute. The simple garland across the table is actually a piece I use to decorate my mantel. Add simple grocery store flowers to a galvanized caddy for a pop of color.
Tip 3: BYO Beverages
Whip up a budget friendly mocktail and let your guests bring their own beverages if they wish. Serve drinks right in disposable Chinet Cut Crystal cups and save on having to wash a pitcher later. For our tasty mocktail, mix raspberry sparkling water with lemonade and garnish with frozen berries and a wedge of lemon or lime.
Tip 4: Opt for Potluck Style
More often than not, guests will ask you if they can bring anything. Say yes! Plan out a menu beforehand so you can be prepared to let guests know what kind of sides or desserts to bring. I like to cover the main dish and even step outside of the hamburger and hot dog box and serve steak, ribs or chicken. Choose a less expensive cut steak like skirt steak. Marinate well and it'll grill up nicely with some corn on the cob and foil-packet potatoes!
Life is better when you're spending it with family and friends! Don't waste time cleaning up. Stock up here on Chinet Classic White 100% recycled material, eco-friendly plates, bowls, and napkins along with the beautiful cups and cutlery from the Chinet Cut Crystal collection for every entertaining occasion.
I was selected for this opportunity as a member of CLEVER and the content and opinions expressed here are all my own. Chinet® and Classic White™ are registered trademarks of Huhtamaki, Inc. in the U.S. and other countries.