Want to get creative with lunches, but not sacrifice a lot of time? Bento Box lunches for kids are incredibly easy to assemble. We're sharing our favorite ways to pack healthy and nutritious bento box lunches for your kids.
Three quarters of the way through the last school year, my daughter decided she no longer wanted sandwiches. Gone were the easy days of making 5 PB&Js on Sunday to last the week. I spent sooo much time scouring Pinterest for tips on hot lunches, lunches for picky eaters, and no-sandwich lunch ideas. I asked around and found the best lunch box items and bento boxes in order to be more prepared this year.
Easy Bento Box Lunches for Your Kids
Bento boxes are probably the easiest, most creative way to send your child to school with a nutritious lunch. You can get as creative as you want or just toss a few simple ingredients in each divider to call it a day. My kids are pretty picky when it comes to meals, but I've learned that they'll eat most of what we do as long as it's disassembled which is perfect for bento boxes! (This is our bento box. The compartments are a great size and perfect for my 6 year old's appetite.)
Related: 17 Easy Back to School Lunches!
Here are a few of my daughter's favorite bento boxes:
Fruit: grapes, strawberries, apple sauce, berries, raisins, apple slices
Dairy: cheese sticks, Babybel, shredded cheese, yogurt
Main: Turkey Roll-up, peanut butter and jelly, oatmeal cookies, peanut butter crackers, hard-boiled eggs, salami, mini bagel (w/ cream cheese or peanut butter)
Snack: pretzels, Nut-thins, peanut butter crackers, mini chocolate chips, graham crackers, Little Bites muffins, goldfish crackers
Dipping options: ranch/hummus for veggies, peanut butter for veggies or crackers
More fun ideas from my mom blogger friends!
View this post on Instagram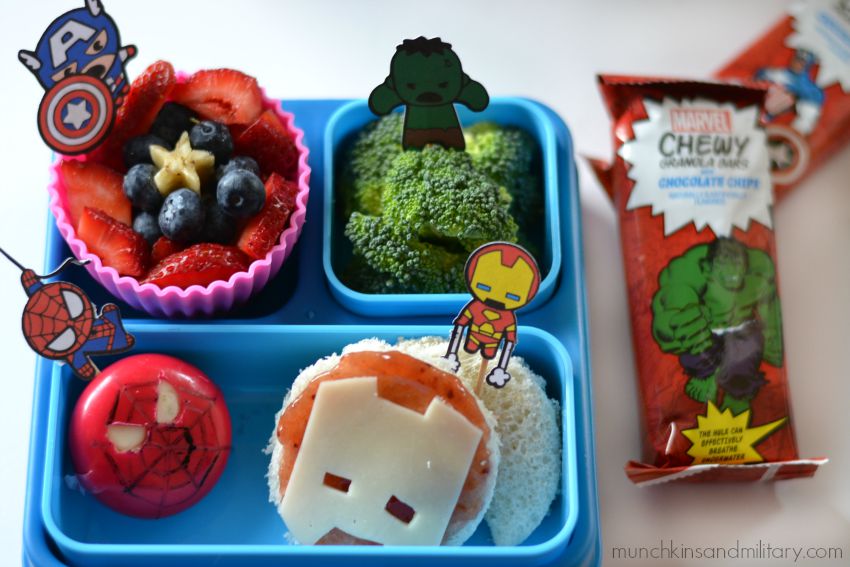 from The Three Little Ferns Blog