This shop has been compensated by Collective Bias, Inc. and its advertiser. All opinions are mine alone. #ThinkOutsideTheWipe #CollectiveBias
There once was a time I was so particular about everything. Everything had a place and remained organized and clean. After we had our first child I admit it became a little more difficult to manage, but it was still doable. Once number two rolled around? Forget it. I was constantly stressed out, trying to keep up with all the little messes; baby spit up, toddler toy disasters, and toddler self-feeding messes. I couldn't do it anymore. Life is too short to be upset about stained clothes they'll only wear a few times before graduating to the next size or freaking out about milk spilled all over the counter because the toddler "could do it herself." In short, I learned that embracing the mess with my toddlers was the best choice. They're only little for a short time and learning to be independent. Will we all remember sticky floors or stained clothes when we're old? Nope.
The old me would have never even bought paints, let alone let my four and two-year olds use them. But I'm glad we did. Watching them work so intently making their art is what motherhood is all about. We tried out a new form of painting over the weekend called snap painting. The kids had a blast and the mess? Eh, it was a breeze with a trusty old mom trick…. baby wipes. We're always fully stocked on Huggies® One & Done® Refreshing Wipes thanks to the convenient cases available at our local Sam's Club. I love that they're durable enough to tackle any mess my kids throw at me and are alcohol and paraben free with the most refreshing cucumber & green tea scent. So make sure you have plenty on hand before starting this fun activity. 😉
Cleanup after this super messy activity was a breeze thanks to Huggies One & Done wipes! I love that I could wipe down the kids faces and hands along with the table with just a few wipes. Be sure to stock up on Huggies One & Done wipes at your Sam's club between 8/23 – 9/17, while supplies last, and save $8 off the purchase of any 2 Huggies products. My favorite part about shopping at Sam's?! Members can use their handy Scan & Go service on their phone and avoid toddler freak outs in checkout lines! Seriously life changing!
Hover over the image below for easy online ordering!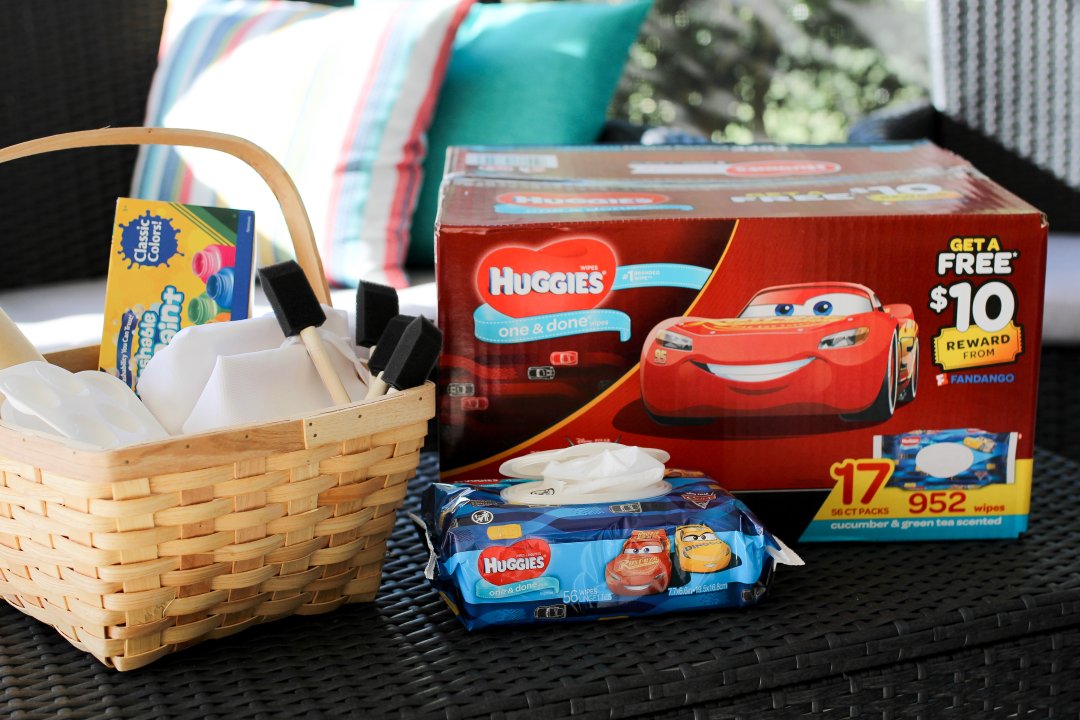 Rubber Band Snap Painting
Small cookie sheet
Craft paper
5-10 rubber bands
Washable Paint
Paint brushes
Lay a piece of craft paper on a cookie sheet.
Wrap the cookie sheet with 5-10 rubber bands.
Have the kids paint the rubber bands with as many colors as they want.
Pull the rubber bands back, while holding the cookie sheet down, and snap! Watch the paint hit the paper and make graffiti designs!
Huggies One & Done wipes can be found in the baby care aisle of your local Sam's Club.
Happy Painting!!